DNS an abbreviation for "Domain Name System", is an integral part of how the internet functions today. However, the way that DNS works is often quite mysterious for new administrators. DNS controls your domain name's website and email settings. When visitors go to your domain name, its DNS settings control which company's server it reaches out to provide you all required service(s). DNS entries could include records such as cnames, A record, mx records, txt, ptr and so on. What ever you have on the individual record field determines which server your domain request the listed service(s) from. It is worth noting that not all Web host avails their customers with a DNS manager tool. At QServers Web Hosting, we try to give our clients more control over their domains and other related services, and hence every user can access their DNS manager and create or modify DNS records to their choice entries. Note that you can enable DNS manager by default while placing order for a domain. If for any reason you missed selecting the option of DNS services, you can always reach out to our support team to assist you enable it. Steps to set up/edit your DNS management To update your DNS settings in QServers Web Hosting, find the simple steps below: 1. Login to your QServers client area and locate on the menu bar 'Domains' and subsequently 'My Domains'.

2. Locate the domain name you wish to set up/edit its DNS. By the right hand side of the choice domain you should see a drop-down and once clicked on you should see 'Domain DNS Manager'.

3. This should take you to the screen below, from which you should click on "Yes Create".

4. Viola!!! You should see the screen below, select your choice DNS record and begin to the relevant fields as required by the record you are about to set up and click on save once done.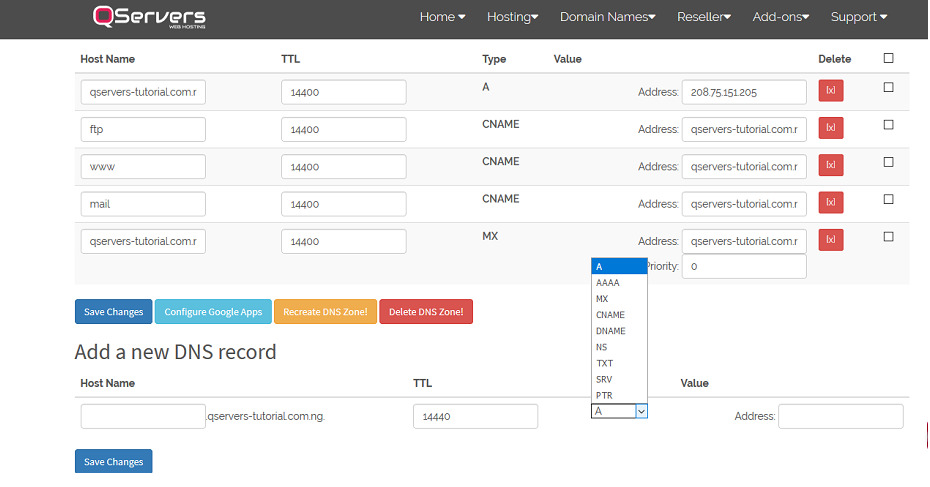 For further support, kindly reach our support team either via mail phone or chat directly from our website.
Comments
comments